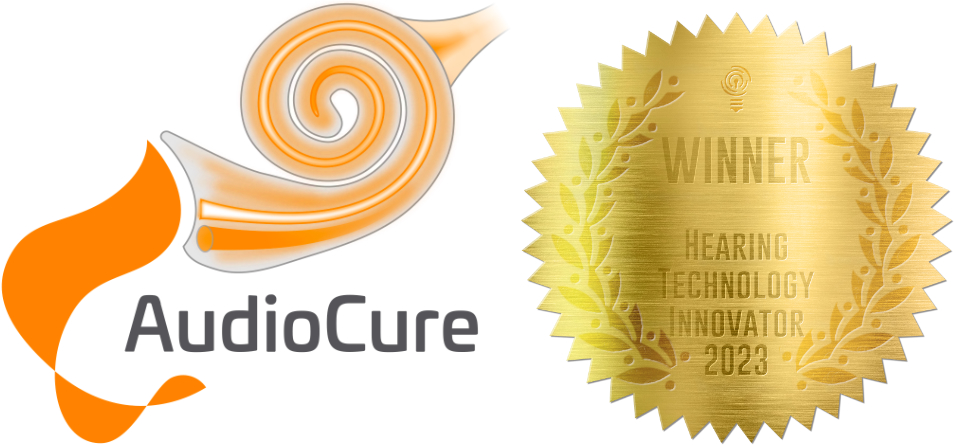 AudioCure has been awarded for their innovative therapeutic small molecule AC102 by the Hearing Technology Innovator Awards™, honoring technological innovation and accomplishments in the hearing industry.
"The Innovator Awards aim to acknowledge the individuals and organizations that transform groundbreaking hearing care concepts into reality," explained Dr. Robert Traynor, member of the 2023 Awards program judge's panel. "Companies like AudioCure are playing a pivotal role in advancing innovation throughout the industry."
AudioCure's lead compound, AC102, is in development to treat hearing impairments including a serious form of sudden hearing loss affecting the inner ear called Sudden Sensorineural Hearing Loss (SSNHL). While administration of corticosteroids has been the standard therapy, they have never been approved by the health authorities as there is only unclear evidence of a clinically relevant benefit to the patient. AC102 continues to advance in addressing critical unmet needs in conditions such as SSNHL. In preclinical hearing loss models, AC102 requires only one application to exert its effects in the inner ear where it leads to almost complete restoration of hearing, strongly outperforming multiple doses of corticosteroid therapy. After being demonstrated as safe and well-tolerated in healthy subjects, AC102 is currently being evaluated for efficacy in early-stage SSNHL patients in a European-wide Phase 2 clinical trial.
Reimar Schlingensiepen, CEO of AudioCure, said: "Receiving the Hearing Technology Innovator Award underscores the urgent need for advanced solutions in treating conditions like SSNHL. It also honors the groundbreaking innovation by our founder, Prof. Hans Rommelspacher. Our ongoing Phase 2 clinical trial represents a significant step toward providing such a transformative solution. This recognition fuels our commitment to further enhance our efforts to redefine the standards-of-care in hearing therapeutics."
Contact AudioCure
AudioCure Pharma GmbH
Frauke Luers